Privacy Policy
Office Tomisaka shall comply with the Act on the Protection of Personal Information and other related laws and regulations, regarding the personal data it possesses, and shall handle such information appropriately in accordance with the Office Tomisaka's policy set forth below.
 What personal data we collect
The personal data we process may include your:
・name, gender, age and date of birth;
・contact information, such as address, email, and mobile phone number;
・country of residence;
・your identity documents such as seal registration certificate, driver's license, passport, health insurance card, pension handbook, employment insurance certificate , withholding certificate, residence card;
・lifestyle and social circumstances;
・family circumstances (for example, your marital status and dependents);
・employment and education details;
・financial and tax-related information (for example your income, investments and tax residency);
・IP address, browser type and language, your access times;
・information in any complaints you make ;
・details of how you use our products and services;
・information we collect when you access our premises; and
・details of how you like to interact with us, and other similar information relevant to our relationship.
The personal data we collect may also include so called 'sensitive' or 'special categories' of personal data, such as details about your:
・health; and
・sexual orientation (for example, if you provide us with details of your spouse or partner).
We may also process personal data relating to ethnic or racial origin (for example, any multicultural networks you belong to).
Purpose of Using Personal Data
We shall use personal data above within the scope necessary for the purposes of use set forth below:
・To implement operations related to practice requested by the Office Tomisaka's clients;
・To provide newsletters and legal updates from the Office Tomisaka;
・To analyze and improve the provision of our services to you;
・To record and monitor your use of our websites or our other online services, which may include analysis of usage and measurement of site performance;
・To investigate any complaints or queries you may have; and
・Any other purposes necessary for the appropriate and smooth performance of our services.
We will use personal data only for the above-mentioned purposes, and will not use such information for other purposes without the consent of individuals.
Management of Personal Data
We manage personal data, within the scope necessary for the achievement of the purpose of use, taking care such that illegal access, loss, destruction, manipulation or leakage do not occur; implementing necessary and appropriate measures, in accordance with the Office Tomisaka's rules and regulations concerning the protection of personal data. In addition, we supervise our employees appropriately regarding the handling of personal data
Unless we have our client's consent, we will not provide any personal data to any third party.
Your Rights
Your rights under data protection laws include the right to: 1) request copies of your data; 2) request correction of your data; 3) request erasure of your data; 4) object to us processing your data; and 5) ask us to restrict the processing.
When we receive a request based on such right, we will conduct any necessary investigation.
Contact Information regarding Personal Data
If you have any questions or comments about privacy issues, or wish to exercise any of the rights set out above, please write to:
E-mail: inquiry61@labor-consultant.com
Cross Border Transfer
We may transfer some information about you to countries outside the European Economic Area that have less stringent data protection laws. When we do this, we will make sure your information remains adequately protected.
We will comply with applicable data protection requirements and take appropriate measures to ensure the security and integrity of your personal data.
Retention of Personal Data
We seek to ensure that we only keep your personal data for the longest of:
・the period necessary for the relevant activity or services;
・any retention period that is required by law; or
・the period in which litigation or investigations might arise in respect of the services.
Changes to this privacy policy
We may modify or amend this privacy policy from time to time.
Office Tomisaka is registered as a certified office of "SRP II certification system"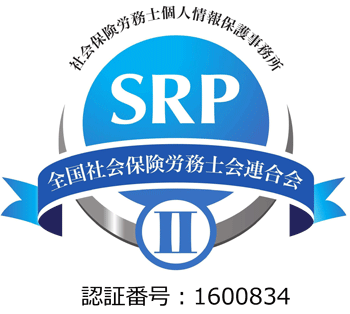 SRP II Certification System
The handling of personal information by the Attorney of labor and social insurance (Social Security Specialist) is required to have a duty to keep information confidential under the Social Insurance and Labor Service Act. And it is also required to be properly handled from the viewpoint of compliance with the business ethics.
With the full enforcement of the Personal Information Protection Law, Japan Federation of Labor and Social Security Attorney's Associations established the "SRP Certification System", a certification system for the protection of personal information, in fiscal 2008. It is the only certification system among legal professionals in Japan.
In addition, in response to the start of the operation of the Social Security and Tax Number System (My Number system) from 2016 and its safety control measures, Japan Federation of Labor and Social Security Attorney's Associations has renewed to the SRP II certification system.
HAVE QUESTIONS ? ASK OUR EXPERTS.